MOVING – is a federation of national and international traffic publishers and companies working professionally in the field of road safety education, who have formed an association based in Berlin. Since 2012 MOVING and its members seek to contribute to organized road safety. Focus of our work is to promote education and accident prevention in the fields of road safety, traffic safety education and training, including the associated training and testing procedures in Europe and worldwide. MOVING is an affiliated member of CIECA/The International Commission for Driver Testing (Brussels) and a member of ETSC/European Transport Safety Council (Brussels).
MOVING-News:
10th March 2021: We noticed the discrepancy in the main menu when switshing languages. We are working to figure out the problem. Please stay put.
9th March 2021: Today the Commission presents a vision, targets and avenues for a successful digital transformation of Europe by 2030. This is also critical to achieve the transition towards a climate neutral, circular and resilient economy. The EU's ambition is to be digitally sovereign in an open and interconnected world, and to pursue digital policies that empower people and businesses to seize a human centred, sustainable and more prosperous digital future. This includes addressing vulnerabilities and dependencies as well as accelerating investment.
08th March 2021: According to 2019 traffic accident data, Road Safety shows that women are less dangerous behind the wheel than men. On the occasion of the International Women's Rights Day this March 8, 2021, the Road Safety reminds once again that women drivers are less involved in road accidents, figures to support. Read the full frensh article here.
2nd March 2021: The Journal of Safety Research has published an article "Analyzing the safety impact of longer and heavier vehicles circulatin in the European market". The authors conclude, "The results show that countries that currently allow megatrucks to circulate have, on average, a lower number of traffic accidents and fatalities. Conclusions: Traffic of this type of vehicle is only advisable in countries where there is a certain level of maturity and proven success in the field of road safety. Practical applications: European countries that have allowed the traffic of mega trucks achieve better results in terms of road safety, although the accident fatality rate seems to be higher. Consequently, the introduction of mega-truck traffic requires prior proper preparation and testing."
12th June 2019: MOVING raises awareness for the general problem of driving without a valid license. This issue does not only but all around the world. We want to encourage non-governmental and governmental road safety institutions to gather data on the topic and evolve ideas to tackle the problem.  Read more in our recent press release and the Chart of the Month.
16th August 2018: MOVING is glad to present you to new and interesting insights in our daily work in English today. Form now on you can find two new documents in the facts & figures section on this page.
First, we did put together a little introduction of our organization and Goals in the MOVING Image Brochure.
Also, we want to put your attention on the first English version of our MOVING Driving School Report 2018, offering a detailed overview on the German driving school industry.
24th October 2016: The 5th October 2016, DEKRA-Spain with the collaboration of MOVING and the national Spanish Member ETRASA, celebrated in Madrid the presentation of the DEKRA European Road Safety Report 2016. It has been the first time that this Report has been presented in Spain. Read more.
24. October 2016: Since MOVING is very interested in new methods of teaching for young drivers and ways to integrate new technology in their education, we commissioned a study on the subject of the use of driving simulators in driving schools. The study was carried out by the Institut für Automobilwirtschaft (Institute for Automotive Industry) and presented at the CIECA Congress in Madrid in summer. Read more.
12th January 2015: Jörg-Michael Satz is new president of MOVING. Since March 2014 Jörg-Michael Satz was vice president.
Read more in the press release (only in German).
1 July 2014:
Press Release

Recommendations handed over to Ministry
Since several years now, the periodic training for all professional drivers in Europe is mandatory. Since 2006, the Professional Driver Qualification Act (Berufskraftfahrer-Qualifikations-Gesetz) regulates the mandatory training of professional drivers in Germany. Professional drivers have to provide a proof of having participated in a 35-hour periodic training every 5 years. In practice, however, there appeared significant implementation problems from the beginning. Uniform controls, content liability, tamper-proof certificates – all not existing.
Recommendations for a revision of the legislation have now been handed over to the Parliamentary State Secretary of the German Federal Ministry of Transport and Digital Infrastructure, Dorothee Bär, in the margins of the award ceremony of the young drivers' initiative "Hallo, Zukunft" presented in Berlin. Read more (in German)
29 April 2014: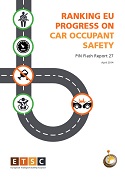 The European Transport Safety Council (ETSC) has published the latest PIN Flash Report No. 27 today. Around 240,000 car occupants were killed in road collisions in the EU in the years 2001-2012. There was a reduction of 55% from 2001 (27,700 in 2001) to 2012 (12,345 deaths in 2012). The report shows the EU member states with the highest reduction rate in killed car occupants. Finally, the report gives recommendations to member states and EU institutions how to go on with this trend. One of the key recommendations is "Improve learning and qualification systems for novice drivers" – a recommendation MOVING strongly supports, because novice drivers still remain the road user group with the highest risk of being killed or injured.
You can download the report on ETSC website:
PIN Flash Report 27 "RANKING EU PROGRESS ON CAR OCCUPANT SAFETY"