MOVING – es una asociación compuesta por editoriales nacionales e internacionales especializadas en seguridad vial, con sede en Berlin. Desde 2012 MOVING y sus socios trabajan para contribuir a la seguridad vial. El objetivo de MOVING es promover la formación y la prevención de accidentes desde las áreas de seguridad vial y educación-formación vial, incluyendo los procesos asociados al sistema de exámenes y evaluación. MOVING es un miembro asociado de CIECA/Comisión internacional para los exámenes de conducir (Bruselas) y miembro de ETSC/Consejo europeo de seguridad en el transporte (Bruselas).
Noticias
24. October 2016: The 5th October 2016, DEKRA-Spain with the collaboration of MOVING and the national Spanish Member ETRASA, celebrated in Madrid the presentation of the DEKRA European Road Safety Report 2016. It has been the first time that this Report has been presented in Spain. Read more.
24. October 2016: Since MOVING is very interested in new methods of teaching for young drivers and ways to integrate new technology in their education, we commissioned a study on the subject of the use of driving simulators in driving schools. The study was carried out by the Institut für Automobilwirtschaft (Institute for Automotive Industry) and presented at the CIECA Congress in Madrid in summer. Read more.
12th January 2015: Jörg-Michael Satz is new president of MOVING. Since March 2014 Jörg-Michael Satz was vice president.
Read more in the press release (only in German).
29 april 2014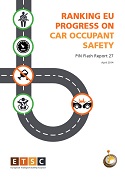 El Consejo Europeo de Seguridad en el Transporte (ETSC) ha publicado hoy el número 27 del Informe PIN Flash. Alrededor de 240.000 ocupantes de vehículos murieron en accidentes de tráfico en la Unión Europea entre los años 2001-2012. Hubo una reducción del 55% desde 2001 (27.700 en 2001) a 2012 (12.345 muertes en 2012). El informe muestra los estados miembros de la UE con la mayor tasa de reducción de fallecidos. Por último, el informe ofrece recomendaciones a los estados miembros y las instituciones de la UE sobre cómo continuar con esta tendencia. Una de las recomendaciones principales es "Mejorar los sistemas de formación y cualificación de los conductores noveles" -una recomendación que MOVING apoya firmemente, dado que los conductores noveles siguen siendo el grupo de usuarios de la vía con el mayor riesgo de fallecimiento o de resultar heridos.
Puede descargarse el informe en la web del ETSC:
PIN Flash Report 27 "RANKING EU PROGRESS ON CAR OCCUPANT SAFETY"